The Prosci ADKAR Model Overview eBook
This guide will fast-track your understanding of the Prosci ADKAR Model and its application for personal and organizational changes.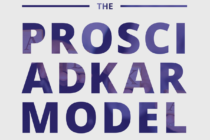 This guide:
Walks you through each of the five elements of successful change
Provides examples of the ADKAR Model in action
Ends with a quick exercise so you can start to put the model into action in your own life or work
Addressing the challenges of change is much simpler with a structured framework. Learn more about the ADKAR Model and how you can apply it!
Please fill in the form to download it